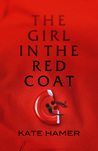 The Girl in the Red Coat
by
Kate Hamer
My rating:
5 of 5 stars
This story of a mother and daughter's journey through an unexpected separation that shows how strong the human spirit is when faced with tragedy. Beth and her 7 year old special daughter Carmel are at a storybook fair when Carmel disappears and is taken by a man who tells her he's her grandfather. The places and people they meet takes advantage of Carmel's special abilities. This is one book that will pull at any parents' heart strings. It's a parent's worst nightmare to lose a child and find out they've been kidnapped. Throughout the book the reader is given an inside look at how Beth deals with her missing girl and you see her struggle to understand how to go on living.
Carmel's journey takes her to the states with gramps, his girlfriend and her 2 girls. As a fanatical religious man the reader has difficulty discerning whether gramps ever cared for Carmel or if he's just using her for her healing abilities to make money. I notice with Carmel the author focuses more on Carmel's new found relationships.
The Girl in the Red Coat is an emotionally charged well written story that had me in tears to 0)lthe very last page. I was left questioning who were the bad guys. Obviously gramps comes to mind as the bad guy for kidnapping Carmel but yet I think he felt he was truly saving her from parents he thought didn't care enough for her. He never molested or abused her as I was expecting. Instead in a way he really was like a grandfather to her.
I give The Girl in the Red Coat a 5 out of 5 stars because I was glued to its pages in hopes the mother and daughter would somehow be reunited. An emotional thriller makes a parent like me aware of how true this story could be for someone in the crazy world we live in.
I won this book in a goodreads giveaway.
View all my reviews