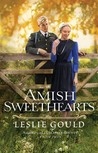 Amish Sweethearts
by
Leslie Gould
My rating:
5 of 5 stars
Amish Sweethearts is the sweet romantic story of Lila and Zane. The story takes place in Lancaster County, Pennsylvania where Amish girl Lila grew up with her childhood friend and neighbor, Zane. Zane's family are not Amish like most of the community however they are friends with their neighbors. At a time of uncertainty of the future and as an act of rebellion, Zane enlists in the Army which takes him half a world away from his family and his best friend Lila. During this time, Lila must choose between doing the right thing by marrying an Amish man her father approves of or to follow her heart and choose the man she truly loves. "Be still and know that I am God" Psalm 46:10 is the passage that carries them through the uncertain times. Through it all Lila and Zane keep their faith in God to show them the way.
The characters in the story were very well written. The main character Lila is emotionally strong and hardworking. She puts her family duties like taking care of her sick grandmother and younger siblings above her own happiness. Always the dutiful daughter she spends her days between doing her daily chores and working at the local buffet to help keep her family financially secure. Zane on the other hand is straightforward and isn't sure what he wants out of life. He loves the Amish way of life and seems more Amish in his way of thinking than some of the others who are Amish such as Simon. Simon, Lila's brother is my favorite character. He's the rebellious son who dreams of life as a soldier in the Army against his father's wishes. He and Zane are like polar opposites. I like the introduction of Beth to the story as she seemed to calm down Lila and Simon's father and help him understand his children better. Casey is an Army friend of Zane who I could picture striking up a relationship with Simon. I feel like the people in this story could be people I'd be close with or who I'd like to have as friends and neighbors.
A story of reconnecting old friendships and realizing the true power of love, Amish Sweethearts is definitely a must read for any Amish fiction readers! I couldn't seem to put it down especially late at night when I needed to be sleeping. I rate this story 5 out 5 stars! I received this book from Bethany House Publishers in exchange for my honest review.
View all my reviews